As of right now I'm living in the loft. Outside the loft is a room bigger than my room. So I did some thinking! Moving my room to there? But what would I do with my room now? Then it hit me, my clothes are always strewn everywhere and its basically a huge mess, so I think a nice closet would be perfect!
Right now I have one that actually looks a lot like Nicole Richie's, except, you can't see the floor. Not one bit.
Here's what I was thinking.
Something as organized as this, but cuter. And absolutely no birch.
I like the idea of french doors. 
I have so many different ideas!!
I love how Olivia Wildes closet almost has an organic feel to it, but at the same time is still modern and romantic.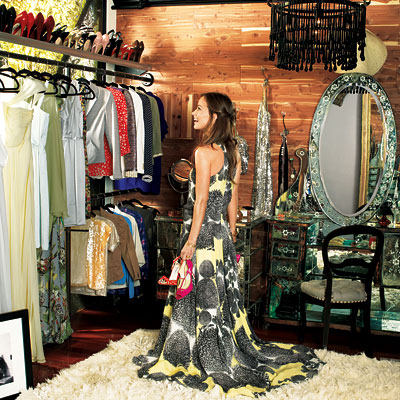 Then theres something like this (from Sex and the City) which is very modern and sharp looking. I really do like it though. If I was to get something similar to this I'd spruce it up with a sparkly chandelier, a sheepskin rug and perhaps a little bench and for the slightest bit of color, my shoes and some pink peonies!!
Hmmm.....